Regular price
$54.00 USD
Sale price
$27.00 USD
Unit price
per
Sale
Sold out
For Ebook & Audiobook Purchases

You'll Receive a Download Link via Email from BookFunnel

You Can Send to Your Preferred E-Reader to Enjoy!
📚Read an Excerpt

📚The Stormy Warrior

The wedding was in two hours. The family was eating lunch together, but that wouldn't happen until after the wedding. Tess would be passed out from hunger by then. She reached for another candy bar. This one was for her. Better safe than sorry. The package of Reese's Cups looked good. It was the last one. She grabbed it and a bag of barbecue potato chips. It was good to have lots of options.

When the sales clerk rattled off the total, Tess inserted her credit card into the reader.

A man stepped up beside her. "Stocking up, I see."

Her heart skipped a beat as she turned to face Caden O'Brien, Chas's younger brother. Tess had jokingly asked Chas if he had a younger brother he could fix her up with, never dreaming that the younger brother would be the hunky GI Joe standing in front of her. Caden was sporting a snug-fitting, green t-shirt that showcased his rock-hard abs and defined chest.

Her mouth went drier than sand as she swallowed. Caden had a strong resemblance to Chas, except he was slightly shorter and more muscular. His copper-brown hair was cut in a short military style, making his lean jaw look razor-sharp.

When Tess first met him, she'd thought his eyes were blue-green, but today they were greener, picking up the color of his shirt. It went through her mind that she should say something witty or intelligent, but she couldn't seem to make her tongue move. She just stood there, gaping at him.

This wasn't her. She was the dating queen. Normally, she played the opposite sex like a fiddle. What in the freak was happening here?!

"You might want to remove that."

"Huh?"

He motioned to the card reader.

"Oh, yeah." Her cheeks flamed as she pulled it out and placed it back into her wallet. From the minute Tess laid eyes on Caden, a truckload of fireworks had exploded inside her. She'd done what came most natural and turned on the charm, assuming she'd have Caden eating out of the palm of her hand.

Not so.

The more flirtatious she became, the more distant Caden grew. That's what had thrown Tess for a loop. She didn't know how to handle his disinterest, so she made a point of ignoring him.

The crazy part was that everywhere she went Caden was right there, almost as if he were following her. All right. That was a stretch. Wishful thinking, maybe. It was only natural that Caden would be nearby, considering they were in the same wedding party. She was baffled and irritated at the amusement that flashed over his face.

"What?" she grumbled.

"The clerk is asking if you'd like a bag."

Tess looked at the clerk who flicked her wrist impatiently, making a point of looking at the customers waiting in line behind Tess. "Uh, yes. Please," she added with an apologetic smile. A second later, she reached for the bag and stepped away from the counter. Caden moved with her.

A few awkward beats stretched between them. "Aren't you getting anything?" Tess asked, realizing his hands were empty.

A hint of laughter sparkled in his eyes. "I was gonna get Reese's Cups, but some ravishing woman nabbed the last one."

Her eyes flew open wide, a giggle rising in her throat. "I think you meant ravenous."

He didn't even blink. "I know what I meant," he said softly.

Pleasure rippled through her. Had the stone-cold soldier boy just given her a compliment? She forgot that she was supposed to be ignoring him as a smile curved her lips.

"Well, there are two in a pack. I suppose I could be persuaded to share," she said coyly, "if you'll walk me back to the room." Maybe Caden was warming up to her.

The distance between them shrank as blood pumped through her veins like a jet engine. She traced the outline of his wide shoulders, going down to his tapered waist and long, jean-clad legs. A tendril of hope sprouted in her chest as she awaited his answer.

For a split second, he looked as if he might take her up on the offer. Then, something shifted as he stepped back; a tight, impersonal smile fixing over his lips.

"Thanks," he said offhandedly, "but I have a few things to take care of before the wedding."

His rejection was a slap in the face. Was she so detestable that he couldn't even walk with her to the villa? One minute, he was throwing around compliments, and the next, he was turning her down. "Suit yourself," she harrumphed as she turned on her heel and marched away.

She vowed then and there that she was done with Caden O'Brien. She didn't care how handsome and magnetic the guy was. He was a jerk, plain and simple!

"Good riddance," she muttered under her breath.

Navy SEAL Romance Series Audiobooks Bundle
👉EXCERPT FROM THE RECKLESS WARRIOR
He looked to his left and did a double-take. It was her—the blonde he'd seen when he first arrived. Sitting a few seats away from him. As stunning as she'd been from afar, she was even more so up close. Her hair fell over her shoulders in a sheet of glimmering honey. The form-fitting red dress hugged her curves in a classy way. He'd hoped she might look his direction, so he could get her attention, but she was staring down at her drink, like her mind was a thousand miles away. Sure, she was beautiful, but there were lots of beautiful women in this room. For a moment, he couldn't pinpoint what it was about her that had captured his attention. Then it hit him—it was the haunted expression on her face. It called to his own wounded soul. 
Corbin's throat went dry as he swallowed, his pulse ratcheting up a few notches. He had to get to know this woman. The compulsion was nearly overwhelming. He laughed inwardly. Was he losing it? He'd gotten very little sleep the night before. Maybe exhaustion was taking its toll. The woman had given him the brush-off. She obviously wasn't interested in him. He took another swallow of his drink, his blood pumping like a piston through his veins. 
Before his mind could register what his body was doing, he stood, drink in hand. Without asking for permission, he sat down beside her. Her eyes widened as she glanced at him.
"Hello." A stupid grin washed over his face. He didn't really know what he expected would happen when he made the split-second decision to sit down beside a stranger and try to start up a conversation. But he certainly didn't expect her to give him such a scathing look, like he was the scum of the earth, before turning her attention back to her glass.
Hot needles pricked over him. Shot down before you even got off the ground. He was a big boy and could handle it. Earlier, she'd noticed him first. He'd felt her eyes on him, which is why she initially caught his attention. "Nice party."
She grunted.
He laughed. "That exciting, huh?" He downed the rest of his drink with a couple of swallows, feeling the alcohol buzz to his head. He couldn't believe she was flat-out ignoring him. Not the sort of treatment he was used to getting from the opposite sex. Normally, he had to beat the women off him. He watched as she stirred her straw through the ice cubes and took a drink. The graceful movements of her slim fingers were mesmerizing. A smile flitted over his lips as he realized what was happening. She was playing hard-to-get. He loved a good chase. It made things … interesting.
The bartender approached. "Can I get you another drink?"
"I'll have what she's having," Corbin said casually. He thought that would at least earn him some sort of response. 
Nothing. 
Okay, this was getting awkward. Maybe he should cut bait and move on. 
"Here you go," the bartender said, sliding the drink to him. 
"I don't see it," Corbin said. 
Silence.
"Are you sure it's there?"
At that, she turned. "What?" she asked, only mildly interested.
"Whatever it is you find so fascinating at the bottom of your drink."
She arched an eyebrow. "Excuse me?"
He motioned, fighting a smile. "You were staring into your glass like it held the secret of the Bermuda Triangle, so I figured it must be important." He expected her to at least give him a courtesy laugh for the effort, but she just rolled her eyes and turned her attention back to her glass. 
Corbin took a gulp of the drink, then sputtered in disgust. "This is club soda."
She cut her eyes at him. "You have such discriminating taste."
At least he'd caught her attention, but her words were flat and dead. Not even the slightest bit of emotion in them. Sheesh. This woman was tough. "Are you always this friendly?" he asked dryly.
As she turned to face him, his mind cataloged her features. Long lashes, dark mysterious eyes, full lips painted apple red to match her dress. Her brow lifted in faint amusement. "Are you always this desperate?"
Her soft Southern accent was such a contrast to her insult that it rendered him speechless for a second. "I would hardly call trying to make polite conversation desperate."
"Is that what you call this?"
"Of course," he blustered. What was it about this woman that was making him so jumpy? He never got tongue-tied around women. Normally, the compliments rolled out of him like ballads with the ladies eating up every word. But not this woman. He forced a laugh. "Well, yeah. What else?"
She shrugged. "A poor attempt at hitting on me."
"Don't flatter yourself," he retorted. Her eyes widened in surprise before her face flushed, making her look even more incredible. He felt kind of bad for cutting her down and tried to think of a way to soften the blow. Then it occurred to him. She looked familiar. He cocked his head, trying to figure out where he'd seen her. "Have we met before? Do you live here, in San Diego?" 
Her mouth drew into a tight line. "That's none of your business."
"I wasn't trying to pry … only trying to figure out how I know you. Have you ever been to Birchwood Springs, Colorado?"
She clipped out a single word. "Nope." 
Corbin was unprepared for the sting of disappointment that prickled through him. This woman meant nothing to him. Why was he taking her rejection so personally? She'd clearly dismissed him. The polite thing to do would be to get up and move. But Corbin had never been one to follow the rules of decorum. "What's your name?"
Her eyes widened in exasperation as she turned to him. "Buddy, can't you take a hint? I'm not interested."
He cocked an eyebrow. "I'm only trying to carry on a conversation."
Her jaw tightened. "I'm going to ask you one final time. Leave me alone."
"Okay, I will. But first, you have to tell me your name." Geez. He was coming across as a love-starved jerk. He'd come here to meet with Sutton, not pick up on chicks. But this woman was messing with his head. Crazy, because he didn't even know her. And she obviously had zero interest in him, but she'd been checking him out earlier. Talk about mixed signals! This woman was a master at it.  
She looked past Corbin, exchanging some sort of information with the person behind him. Corbin turned as a heavyset guy with bulging biceps approached. His thick brows bunched as he sized-up Corbin. "Is this guy giving you problems, Miss Mitchell?" His voice had a warning edge, the kind tough-guys used in the hope it would send all opposition running. Not gonna happen, buddy.  
The name clicked, as Corbin experienced an a-ha moment. "You're Delaney Mitchell, that country music singer." No wonder she was being standoffish. She was probably used to guys trying to pick up on her. Then he remembered hearing something about her on the news. She'd shot her ex-husband when he broke into her condo. Yep, the woman had some major baggage. He had to laugh at himself. A roomful of people, and he was drawn to the one who was as messed up as he was. Par for his luck.
"I tried to tell him I wasn't interested, but he won't take a hint," Delaney said.
"I was only trying to make conversation," Corbin mumbled. "You looked lonely … like you needed a friend." Why was he even bothering to explain himself to this woman? Her gaze connected with his. For a split second, something flickered in Delaney's eyes and he caught that wounded expression that had drawn him in. Then a curtain went down, her eyes going hard. "I told you to leave me alone," she said coldly.
Without thinking, he touched her arm. "Hey," he began.
It was the wrong move. The big man grabbed Corbin's collar and yanked him to his feet. "Come with me," he ordered.
Instinct took over as Corbin threw a punch that connected with the man's jaw. He heard the crack at the same instant the sting of the impact reverberated through his knuckles. The big man stumbled back, disoriented. Corbin side-swept his leg, sending him crashing to the ground. There were several gasps from people nearby as they stepped back. Their shocked faces cut through the heady anger, making Corbin feel ashamed. He'd come here to honor his late friend and to reconnect with Sutton, not get in a bar brawl with some hoity toity musician's bodyguard. 
He gave Delaney a disgusted look. "I was only trying to get to know you. Lady, you have much too high of an opinion of yourself." He grunted. "Good riddance." He bent over to offer the guy a hand up. The guy clutched his hand, but instead of using it to get up. He pulled Corbin forward and punched him in the jaw. Pain rippled through Corbin and with that pain came a scorching anger that overshadowed reason. They rolled on the floor, trading blows. Then Corbin sprang to his feet, adrenaline coursing through his veins. He could go like this all night. In some perverse way, it felt good to vent the anger and frustration continually warring inside him. The man also lumbered to his feet. He wiped the thin trail of blood flowing from his lip, breathing heavily. A humorless grin ruffled Corbin's lips. "Have you had enough? You should've left well enough alone, friend. I was trying to help you up."
The hulk lunged at him, but Corbin easily dodged out of his way. A crowd had circled around them. It just went to show that regardless of whether folks were high or low-class, they loved the thrill of the fight. 
The man came at him again. Corbin stepped to the side causing the lug to run headfirst into the bar. Corbin assumed that would be the end of it, but the hulk turned to face him, his eyes dark slashes as he shook off the hit. When he charged again, Corbin twisted behind him and got him in a chokehold. The man's face turned purple, his arms flailing. Then he slumped to his knees and fell face-first on the floor, passed out cold.
Corbin glanced down at the streaks of blood on his white tux jacket. He looked at Delaney, who was ghostly white. "It didn't have to be this way." He rubbed his jaw, still smarting from the hits, then glanced at the spectators. "Show's over," he grumbled.
He got a couple of steps away when four security guards in black suits approached. He crouched getting into a fighting position. So this is how they wanted to play it. Fine with him! When the first guy charged, he clocked him in the face, knocking him down. He got the second with a swift sidekick to the gut. As he was fighting the third, the fourth attacked from behind. A sharp pain splintered up the base of his skull as he fell to his knees, the room spinning. His mind screamed fight, but his body refused to cooperate. In another second, the security guards had Corbin pinned on the ground, slapping handcuffs on his wrists. They lifted him to his feet, breathing curses as they hauled him away.
Experience the thrill of navy SEAL action in this exciting 4-book bundle. Embark on perilous missions and thrilling adventures with the brave heroes of romance. Go the extra mile and conquer new heights with the Navy SEAL Romance Series Audiobooks Bundle!
The Resolved Warrior
It has been six months to the day since Sutton Smith's son Doug, a Navy SEAL, was killed in a rescue mission that went wrong. Add to the list Sutton's failed marriage and losing the love of his life, the heartbroken billionaire is at the end of his rope. Sutton embarks on a one-day mission to do all of Doug's favorite activities one last time before focusing on all he's lost. 


The Reckless Warrior
A deadly vendetta, a country music singer on the rise, and the hot-tempered Navy SEAL who could either wreck or save everything...
The Diehard Warrior
A love gone wrong, a chance for redemption and reconciliation, and the web of deceit that could destroy everything.


The Stormy Warrior
A spunky personal chef. A brooding ex-Navy SEAL. An unexpected love that will rock them to the core.
Read the First Chapter

📚The Reckless Warrior

All in all, it had been a productive day, despite the disastrous beginning.

Delaney had put in ten long hours at the studio laying down tracks for the first song in her new album. Slowly but surely, she was making progress. The hard part had been pulling her mind away from the threatening texts and focusing on her work. Every minute counted these days. She had to have all six songs written and performed by the end of the month. One down and five to go.

Delaney leaned back against the seat of the car and let her mind get lost in the blur of lights from the city. Every inch of her body craved sleep. As soon as she got home, she was taking a hot shower and crawling into bed. Thankfully, she could sleep in a little in the morning before starting on the lyrics for her next song. The title of her album was "Transformation."

She chuckled darkly. Transformation was a topic Delaney knew well. Maybe she should name her next song "Scratch and Claw." That's what she'd done—scratched and clawed her way to stardom despite all obstacles. But now that she was on the cusp of making it big, her past was catching up to her.

She fingered her neck, feeling like she had an invisible noose around it. She should've known her ex-husband Tuck would come lurking around when he realized she was on the verge of becoming a star. Sharks always came for the feed when they caught a whiff of fresh blood.

An icy fear slithered down her spine as the all too familiar panic gripped her. Tuck wouldn't stop until he killed her.

Maybe she should've stayed out of the limelight. Even as the thought entered her mind, she knew that singing was nearly as important to her as breathing. She didn't want to spend the rest of her life hiding in the shadows, fearing each day that Tuck would return. Tuck and his brother had taken away everything else from her. She wouldn't allow them to steal this too. No matter what, she'd go down fighting.

Her mind flitted over the recent events that had brought her to this point.

The first text came a little over a month ago, right after she made her first appearance on a popular late-night show. Her record label wanted to put her out there so that people would know Delaney Mitchell by the time her debut album came out. The plan was working. Delaney's Instagram and Twitter followers were doubling daily and she'd gotten a half-dozen requests to appear on several more well-recognized talk shows. Unfortunately, the notoriety put her on Tuck's radar.

Had she remained an obscure waitress, scratching out a meager income to get by, Tuck might've left her alone. But now that she was fast becoming somebody, he wanted a piece of the pie.

No, what he wanted was a piece of her. In Tuck's warped mind, he believed he owned her like property he could abuse at will and then push aside until it suited his whim to pick it up again.

She swallowed, glancing at the bulky outline of her bodyguard Mason's shoulders who was driving the car. It was good to know that she had someone with her always—a barrier that would hopefully keep Tuck from gaining personal access to her.

Immediately after receiving the first round of texts, Delaney had gone to the police and filed a restraining order against Tuck. Then she hired a service that would give her 24 hour, around-the-clock protection. It cost a pretty penny, but it was worth the peace of mind.

Tuck and his family were from her hometown Noble, Alabama. Although there wasn't anything noble about the one-horse town of her birth. She'd hoped that moving from Nashville to San Diego would help Tuck stay away. But she'd been fooling herself. After all, it wasn't like Tuck couldn't hop a plane.

Delaney changed her number and the initial texts had stopped. She'd hoped the ordeal was over. But this morning, it had started again. The text came through as she was wolfing down a bowl of cereal and getting ready to dart out the door for work.

Did you really think I wouldn't find you?

An hour later while she was at the recording studio surrounded by a team of musicians, another text came through. This one had her shaking.

You look good in those black jeans and turquoise boots.

And then …

See you soon.

After the third text, she couldn't breathe. Tuck was here in San Diego, lurking somewhere nearby. He'd gotten close enough to see what she was wearing.

Delaney rushed to the bathroom where she puked. Then she called her manager Milo Stanley. She was so panicked she could hardly talk, the words came out in strangled gulps as she slumped down against the wall and drew herself into a tight ball, rocking back and forth.

Images from before burned through her mind … Tuck taunting her, a tiger playing with its food before going in for the kill.

The last time she saw him, he'd beaten her so badly that he'd put her in the hospital. Delaney figured Tuck experienced a moment of regret over his actions, which is why he agreed to a divorce. She went from the hospital to a home for battered women. The police came and took their reports but realized prosecuting Tuck was futile. Delaney was unwilling to testify against him. Not that she didn't want to see Tuck pay for what he did. But she was too afraid, not only of Tuck but of his older brother Hugh.

She could see the relief in the officers' eyes … knew they didn't want to tangle with the ruthless Allen brothers either. They thought nothing of going after police officers or anyone else who got in their way.

Her manager Milo helped calm her down. He said he was on his way to the studio and told her to call the police. At least the police force here wouldn't be cowed by Tuck. Two officers arrived to take her statement, then told her to call again if Tuck came anywhere near.

"Tuck's just trying to scare you," Milo said. "You have highly skilled bodyguards surrounding you at all times. The closest Tuck can get to you is through texts."

"But how did he get this number?" Delaney wanted to know. "You said it was private."

"It is private," Milo countered. "Geez, Delaney, I don't know how he got it. But don't worry, we'll get you a new number."

Milo had spent a full hour talking to Delaney, trying to calm her down enough that she could get back to work. The record label had paid for studio musicians to come lay down tracks. The song had to be recorded today, or else the label would lose money. And that was unacceptable, especially for a new artist. Delaney was lucky Montana Crew's label agreed to produce her album. She couldn't risk messing things up.

So, she offered a few heartfelt prayers, asking for help. Then she drained several cups of black coffee and went to work. In a way, it was good to have something to focus on besides Tuck. Luckily, her persistence paid off. Nine hours later they finally had a quality product.

"Here we are, ma'am," Mason said politely as they pulled alongside the curb of her high-rise building. "Would you like for me to park the car and meet you inside your condo?"

"No!" The word came out more forcefully than she'd intended. She offered a strained smile to soften her rudeness. "We can use the valet service. I'd like for you to accompany me to my condo. Considering the texts …"

Mason nodded, a deep crease forming in the center of his fleshy forehead. "Of course." He cocked his head looking thoughtful. "Miss Mitchell, if it makes you feel any better, it's highly unlikely that your ex could get past the front desk security into your building and then up to the tenth floor. You should be perfectly safe."

She suppressed a shudder. "Thanks," she mumbled, "but if it's all the same to you, I'd prefer if you go with me and do a check of my condo before I go in."

While she appreciated Mason trying to ease her fears, he didn't know how ruthless Tuck was. It was better to be safe rather than sorry.

"Sure thing." Mason pulled up to the valet desk.

As they got out, Delaney looked over her shoulder, her skin crawling. Was Tuck out there right now, watching her?

She brushed aside the fear, straightening her shoulders.

Something had shifted inside her today as she sat huddled on the bathroom floor, scared out of her mind. She felt small and pathetic … at Tuck's complete mercy. Which is precisely how Tuck wanted her to feel.

But enough was enough! Tuck Allen had caused her enough pain for ten lifetimes. If he came looking for her, he'd get the fight of his life.

* * *

The flowing hot water helped soothe some of the tension from Delaney's aching shoulders. Her mind ran through possibilities for song lyrics, but it was hard to come up with anything since she was so tired. She dried off with a towel, then slipped on her robe. She was headed to her bedroom to put on underwear and pajamas when she heard a noise. She froze in her tracks, her heart picking up its beat. She cocked her ears.

Nothing.

She relaxed, laughing softly. This paranoia would be the death of her. Mason had done a thorough check of the condo, proclaiming it safe. And he was right outside the door where he'd be all night until his shift change when another bodyguard would take his place.

Delaney went to the dresser. She flinched when she heard a thump that sounded like someone was in the kitchen.

Her throat constricted as she clutched her neck. For a second, she was unsure what to do. It seemed like overkill to call 911 because she heard a noise.

She reached for her phone on the nightstand and stole into the hall. Her heart pounded out a ragged beat as she made her way to the kitchen. Had Mason come into the condo for some reason? She made a mental note to call the agency the following day and stipulate that under no circumstances were the bodyguards to enter her condo without her permission. If Mason needed something, he should've called.

"Hello? Mason? Is that you?" She stepped into the kitchen at the same instant she heard the grating laugh.

"Who the devil is Mason? That blockhead you had planted outside your front door?" A cruel grin twisted Tuck's handsome features, revealing the monster within. "Sugar, the next time you hire a bodyguard, make sure he doesn't have a weakness for a beautiful woman holding a box of doughnuts." He grunted. "The fool digested enough sleeping pills to keep him dozing for a good long time. Who knows? Maybe even enough to kill him."

The words flowed so casually out of Tuck's mouth, he might've been talking about the weather rather than the life of a human being. With his blonde hair, even features, and bright-blue eyes, Tuck was the quintessential golden boy—his outward appearance belying the psychopath within. He'd grown a mustache since she'd last seen him, and his hair was shorter.

She let out a cry, tremors shooting through her body.

A wave of dizziness assaulted her as she staggered, trying to get her balance. Her mind tried to come to grips with the fact that her worst nightmare was sitting on a barstool, his feet propped on the kitchen island.

An incredulous laugh rose in her throat. Tuck was munching on an apple, of all things. Her breath froze when she saw the pistol in his other hand. Run! her mind screamed. But to where? Tuck would shoot her before she made it two steps away.

She straightened her shoulders, trying to mask her fear with an expression of outrage. Tuck fed on weakness. "You have no right to be here."

"Oh, I have every right, darling." He looked her up and down, a brazen glint in his eyes.

Revulsion welled in her as she tightened the tie on her robe. "What do you want, Tuck?" She tried to think … She was holding her phone. Was it possible to call 911?

"Did you really think you could get rid of me?" He laughed, but the coldness in his eyes sent shivers down her spine. "As if changing your stupid phone number or hiring a few bodyguards would keep me away."

She felt like she was staring into the face of the devil as he locked eyes with her. Then his expression grew plaintive, like the child in him was taking centerstage. "I miss you." His voice grew pleading, confused. "H-how could you desert me? Your own husband?"

In the early days, she'd been taken in by Tuck's manipulation, believed there was good in him. It was a vicious cycle. He'd beat her senseless, then beg for her forgiveness, romancing her enough so that she'd actually believe things could be different.

Then, when she let her guard down, the demon in him would rear its ugly head. Her voice sounded as brittle and hollow as she felt. "We're divorced, Tuck. You no longer have any claim on me."

He grunted. "Barbie Face, in the eyes of the Lord we're married 'til death do we part." His eyes narrowed. "The two of us will be together, until one of us is put in a box." His voice rose. "You got that?"

She jerked, hugging her arms. Wishing she could make herself small enough to disappear. Tuck had always called her Barbie Face. There was a time when she thought the nickname was cute. When she was young and stupid … flattered that he noticed her.

Tuck tossed the half-eaten apple on the floor and sat up.

Delaney sensed a shift in his demeanor, knew everything was coming to a head. Tuck was tired of talking.

Blood pounded against Delaney's temples. She tried to swallow down her alarm, keep her wits about her. "What do you want? Money? I'll give you as much as you want. Just leave me alone." She hated the desperate edge in her voice. Hated how small and miserable this man made her feel. Life with him had been a horrible series of memories that she wanted to erase from her mind.

His voice took on the silky tone of a snake, slithering around its prey. "Look at you … all high and mighty. Country music star Delaney Mitchell. Has a much better ring than Delores Millstead. But no matter how much lipstick you slather on a pig, it's still a pig, after all." He grunted. "To answer your question. I'll take the money and anything else I want." His eyes raked over her.

Revulsion welled in her stomach. She'd seen that look before, knew what it meant.

Tuck's voice took on a disinterested tone as he motioned. "Now take off that robe. It's time you performed your wifely duty."

Terror—swift and paralyzing—raced over her. And with that terror came a smoldering anger. It wouldn't be enough for Tuck to rape her, he wanted to humiliate her first. They'd been through this routine more times than she could count—her standing before Tuck while he pointed out all the flaws in her body like she was nothing more than a branded piece of livestock. It made her disgusted with herself that she'd allowed him to wield so much control over her.

"No!" Even if she died here tonight she wouldn't be subjected to his cruelty any longer.

His jaw went slack as he rocked back. Then he barked out an uncertain laugh before his eyes went hard. He swiped the glass fruit bowl with his arm, sending it flying to the floor where it splintered into pieces.

Delaney flinched, but held her ground. "Get out! Before I call the police."

Rage twisted Tuck's face as he sprang to his feet and rushed at her, knocking the phone out of her hand. He grabbed her throat and pushed her against the wall. She gurgled, trying to get her breath, her fingers clawing against his hand. Stars exploded before her eyes. In a matter of seconds, she'd pass out. A futile terror iced over her, her eyes bulging, her lungs craving air.

"You listen to me," he seethed, his face purple. "You belong to me! And you'll do what I say!" He released his hold on her throat.

She coughed, drawing in a haggard breath.

He pressed against her with his body weight, trailing the barrel of the pistol along her jaw. "Now whaddaya say we start this conversation over? The robe comes off!"

As he pulled at the tie, something inside her snapped. She let out a visceral scream and went on the attack, digging her fingernails into his eyes. Then she went for the pistol, trying to pry it out of his hands.

No doubt, Tuck was stronger. Had she not taken him by surprise or been so enraged, she might not have stood a chance. But he stumbled back and tried to regain his balance.

They wrestled, Delaney keeping a firm grip on the gun with both hands against his one hand. That was her only chance … to get the gun away from him. Delaney heard a loud bang, felt the brunt kick of the gun being fired. For a split second, she thought she'd been shot.

No, not her.

Disbelief widened Tuck's eyes. "You shot me." He backed away, holding a hand over the wound in his torso as he slumped to his knees, then fell to the floor.

Delaney gasped, the hard reality of what had just happened overtaking her. Her body shook, her mind whirling. Somehow, she managed to get to her phone. She pressed 911.

"My ex-husband broke into my condo." Her voice broke. "I shot him." She looked at the blood pooling like an ink stain over his clothes. "I—I think I killed him."

She dropped the phone and fell to her knees, sobbing.


Share
View full details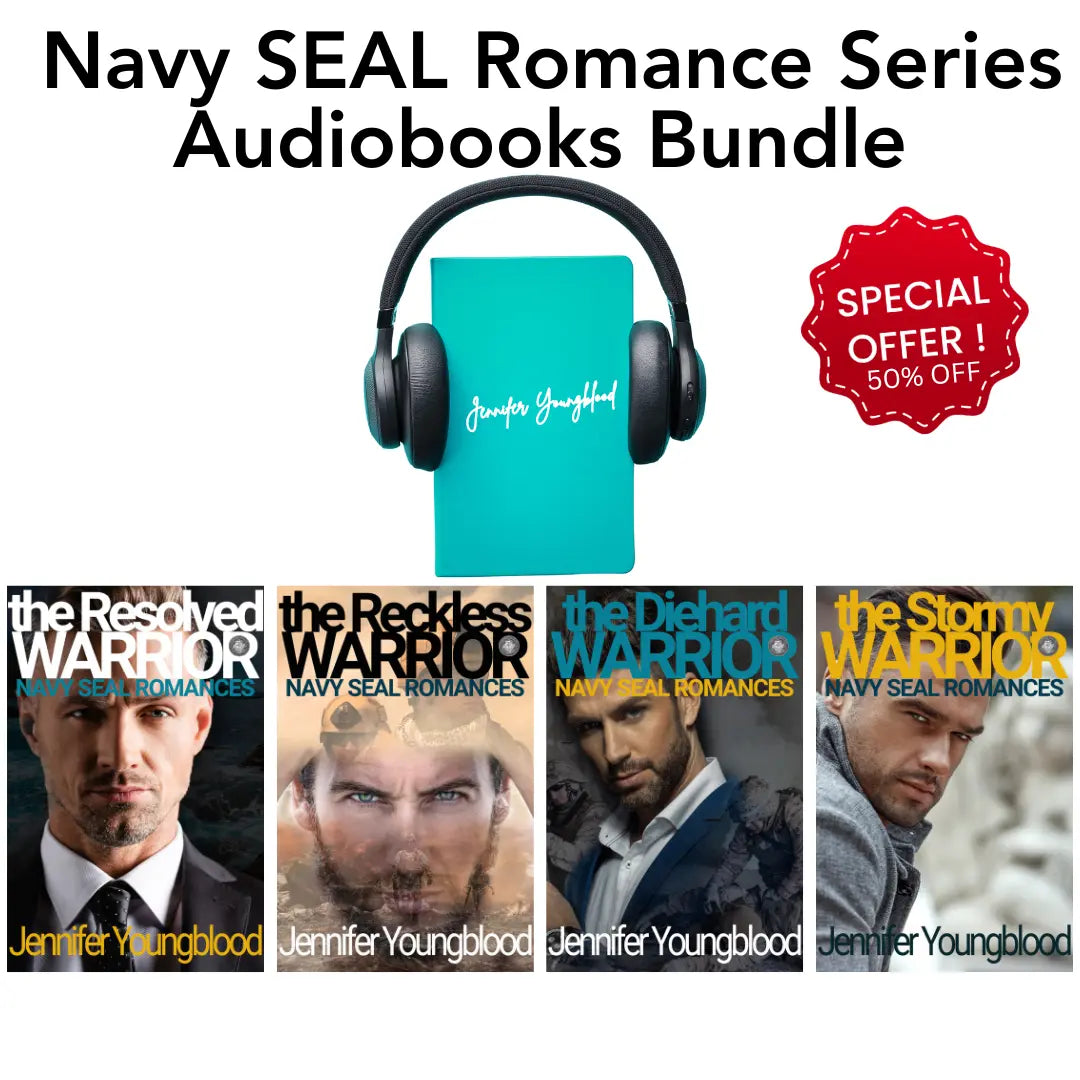 Book Bundles
Bundle and SAVE! Only when you purchase direct from Jennifer.