Regular price
Sale price
$5.99 USD
Unit price
per
Sale
Sold out
For Ebook & Audiobook Purchases

You'll Receive a Download Link via Email from BookFunnel

You Can Send to Your Preferred E-Reader to Enjoy!
📚Read an Excerpt

This wasn't the first time P. J. had spent the night on the floor next to a heart transplant patient, and it wouldn't be the last.

The nursing staff members were wonderful, but sometimes one's conscience just needed to take care of patients personally.

P. J. thought about the dozens of nights spent curled up in a corner while other young adults were out barhopping or at other social events. The thoughts faded as the rhythmic beeping of the patient's cardiac monitor induced a much-needed sleep.

It felt like P. J. had just dozed off when an alarm shrilled a wake-up. Dr. Bandy sat up and rubbed at red, bleary eyes before hitting the cancel alarm button on the smart watch.

The door slid open and someone came in. "Oh, sorry," a male voice said.

P. J. looked up to see who it was. A tall, well-muscled man with a smattering of beard stubble smiled.

"I'm just here to check on Mom. Are you her nurse?"

It was a question she got all the time. She'd long ago gotten past taking it personally. She stood and extended her hand. "Dr. Bandy. I'm Dr. Stone's assistant."

He took her hand, a slight color flushing his face. "Oh, I'm so sorry, I just presumed P. J. was—"

"Don't worry about it," she interjected, cutting him off with a smile. "Dr. Priscilla June Bandy." A tingle ran through her. Odd sensation. Maybe it was from lack of sleep. Even so, she couldn't help but notice that his grip had just the right amount of firmness.

She turned and looked at her patient. "Mrs. Thornton's doing just fine. At this point we're keeping her pretty snookered. You can imagine that getting your ribcage cut open hurts pretty badly. We don't want her in pain yet. We'll turn down the medicine gradually as the day goes on. By tomorrow morning she'll be ready to wake up."

She turned and looked back at him. "I'm sorry. I didn't catch your name."

"Kyle. Kyle Thornton," he said. "I didn't get to meet you yesterday. Thanks for all you're doing for Mom. I don't know how much longer—" His voice caught, and she saw a rim of sparkling moisture appear in his eyes. "I don't know how much longer she'd have been here if you hadn't been around for her."

She looked up at him. He stood a good foot taller than her. His square jaw and broad shoulders looked strong and confident, but his still-moist brown eyes showed tenderness and emotion. Her heart stirred. No, she had to ignore the feeling. He was here about his mother, and that was all.

"May I?" he asked.

"Of course." She motioned for him to move around to the other side of the bed. 

He walked to his mother's side and stroked her face. P. J. watched quietly, reverently as he whispered, "I love you, Mom."

Something about the scene caused her breath to catch.

He looked up at P. J. and smiled. "She looks great," he said. "She seems comfortable." He held her hand tenderly.

"She is. We're doing all we can to keep her that way. What's your schedule today?"

His jaw worked. "I don't suppose there's much I can do here, is there?"

"No. She might want to see you tomorrow though."

Kyle nodded. "I guess I'll go on to work then."

"What do you do?" P. J. asked.

"I'm a computer programmer. I work for an accounting firm downtown, Asher and Dunforth. Have you heard of them?"

P. J. shook her head.

"That's okay." He offered a self-deprecating grin. "Accounting's not as glamorous as heart transplants."

She chuckled. "I don't know about that. You still save people's lives, in your own way."

A wry smile crossed his lips. "I guess we do. People make some dumb moves with their money, and we help them out of it."

"Sounds pretty important to me." She realized she was twirling her toe on the floor. She stopped it and put her foot flat. She also realized she was admiring his wavy brown hair, his muscular arms, and how his shirt hugged just right on his well-formed torso. He wasn't what she would have expected a computer geek to be.

"I have to go start rounding on my patients. I imagine the nurses will chase you out of here any second."

"Then I'd better say goodbye." He squeezed his mother's hand.

"Here, one more thing," P. J. said. She took the stethoscope from around her neck and handed it to him. "Put these in your ears." He complied. She took the bell and placed it gently on Mrs. Thornton's chest. "Do you hear it?"

A massive smile crossed his lips. He teared up again, but this time drops fell from his eyes. He took the earpieces down and handed them back to her, nodding. "She sounds great," he whispered. "Thank you," he said mopping his eyes.

P. J. nodded back. "You're welcome. It's my pleasure." Moments like this make all the long hours and hard work worth it. 

He turned and left. As he walked past the window, he looked at his mother, then at P. J., and smiled again.

P. J. felt the corners of her heart go soft as she let out a wistful sigh. Yep, moments like this make everything worth it.
She saved his mother's heart, but will he break hers?


Being a woman in a male dominated profession is not easy. Priscilla June Bandy, P. J., has worked hard to get where she is as a heart surgeon, and her tenacity is paying off. Her career is on the cusp of soaring to heights she never dreamed of. But her job and heart are soon put on the line when Kyle Thornton enters her life with his chiseled muscles and boyish grin.

Kyle considers it a huge blessing when his elderly mother receives a heart transplant. Just when he feels like things can't get any better, he meets the strikingly beautiful doc … and his life will never again be the same.

Will Kyle be able to fill the hole in P. J.'s heart, or will he unwittingly destroy everything P. J. has worked so hard to build?
Share
View full details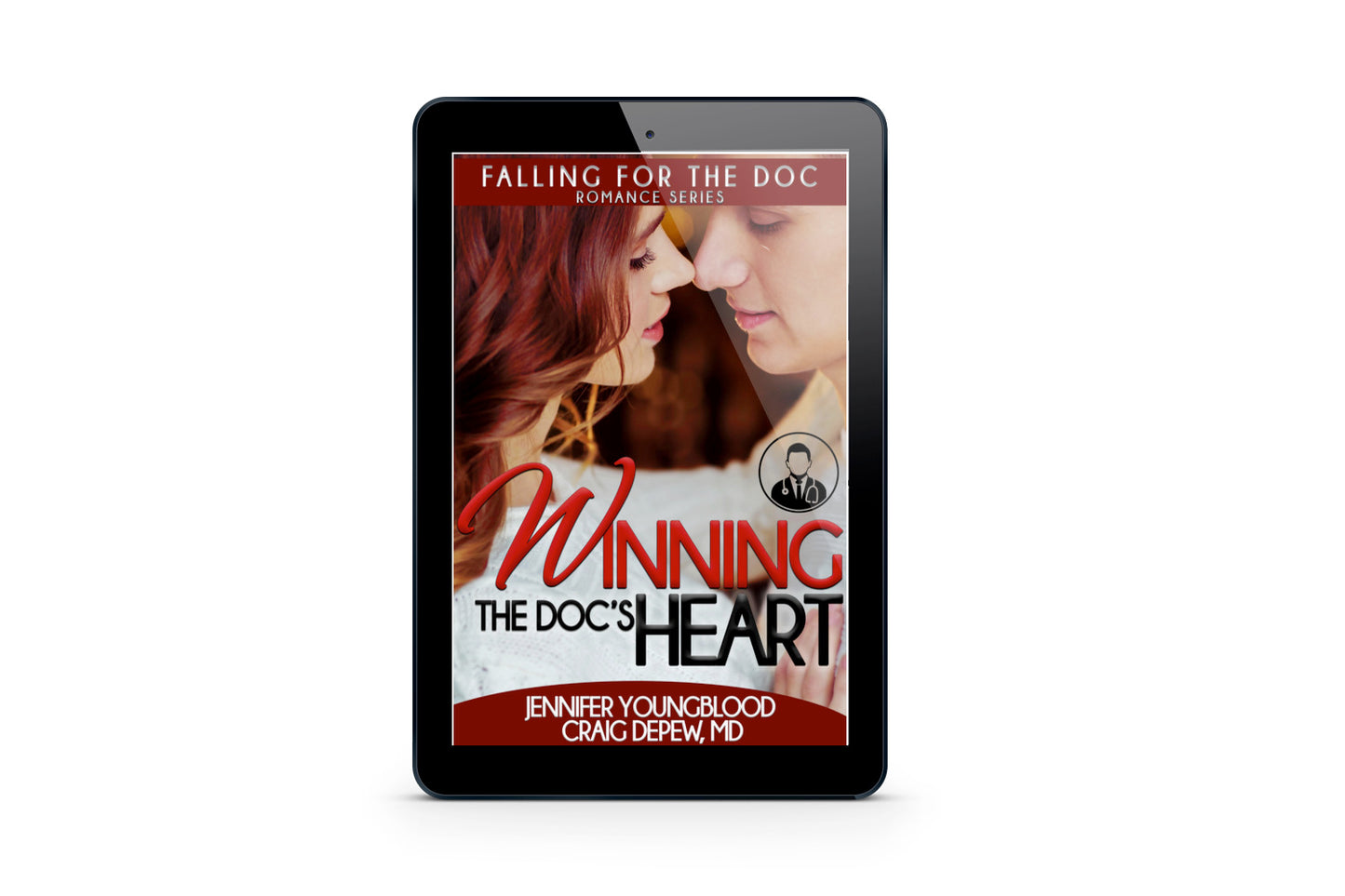 Book Bundles
Bundle and SAVE! Only when you purchase direct from Jennifer.